Bus Riders Unite!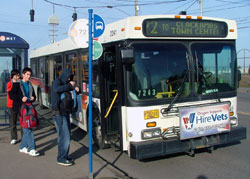 Transportation is at the forefront of environmental justice, as low-income and communities of color organize against the disproportionate environmental impacts of transportation infrastructure. OPAL is studying the Metro Portland region, and organizing for transit equity and health. Our communities, particularly in East Portland and N/NE Portland, are experiencing the decay of public transportation, particularly buses, critical for their livelihood and health.
Did you know...
Bus riders are 2 out of every 3 boardings

on TriMet, serving our most vulnerable communities?


Over the last decade TriMet fares have risen over 40%?

Working class people who depend on the bus pay more than $300 a year?

Buses help reduce toxc air?
OPAL is in the beginning stages of building community and leadership among working class folks who depend on public transportation. We meet with Bus Riders every day in the community. Join OPAL's Transit Justice & Health Campaign, and help out through volunteering and/or a donation for our work. Are you, or do you know a regular Bus Rider - please call us so we can invite you to our next monthly gathering Tuesday May 11th at 6:00 PM.
Environmental Justice Training May 16th
Economic and environmental disparities continue to cause disproportionate harm to low-income and communities of color in Metro Portland. OPAL offers a quarterly Environmental Justice training with the goal of increasing awareness and strengthening community members ability to address environmental racism and classism.
How are racial justice and a healthy environment connected?


How will we protect and support a healthy quality of life?

How will we address disparities and inequalities in our fight for equity?
OPAL EJ Training 101
Sunday, May 16th 3:00-6:00 PM
Register today by emailing info@opalpdx.org or calling 503-928-4EJ4 (4354).
Check out OPAL's updated website - www.opalpdx.org - with information about our two community campaigns: